How to apply
Application process flow for "Energy from Urban, Industrial, Agricultural Wastes/Residues and Municipal Solid Waste" & "Biomass-based Cogeneration in Sugar Mills and Other Industries in the Country" schemes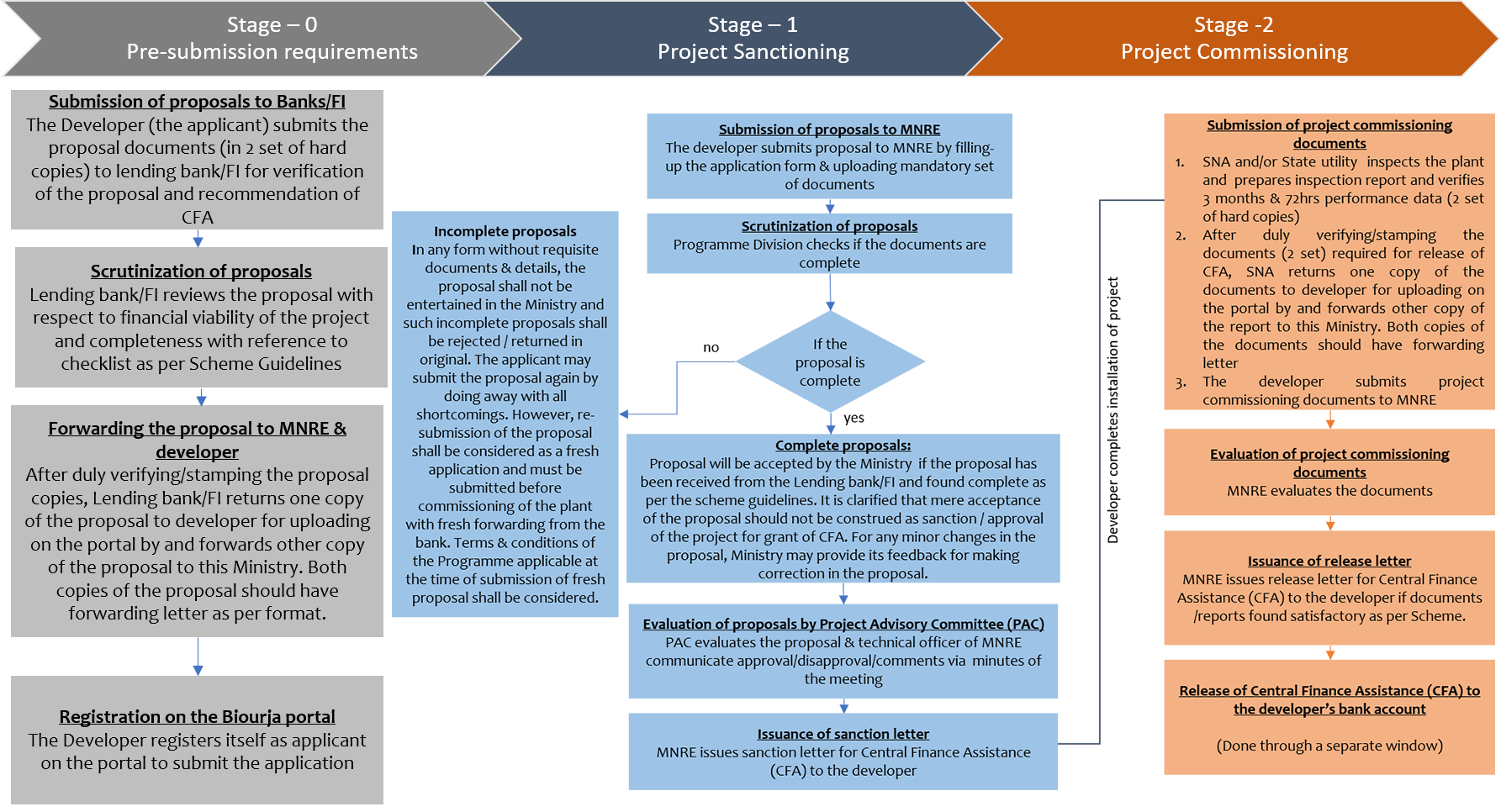 Steps to submit a proposal
Click on Submit Proposal


Create Login: Fill in the required fileds and create the log in credentials.


Once logged in, the dashboard will present the details about theapplications you have submitted and their status. If you are logging in for the first time and there were no forms submitted earlier the grid will not have shaded sections and both the schemes show the number of applications as zero.


After taking a look at the dashboard, the next step is to click on the "Applications" tab on the left panel.

To submit a new proposal, click on the "New Application" tab on the top right side of the screen.
Select the "Scheme" and the "Sub category" under which the application will be submitted. The option of "Sub category" will appear only after the "Scheme" is selected.


Once you click on the "Proceed"tab, you will see the below screen. Fill in the details, then save and continue.Similarly, continue to complete the details under the various heads (Technical, Cost & Viability, and Financeetc.) & upload the documents.
Please Note:


All documents has to be uploaded in PDF searchable format and Images either in PNG or JPG format
To upload multiple documents, please select the documents by pressing the control (Ctrl) key in the upload dialog box



Once the complete details are filled, the application will be reviewed by the approving authorities. Whenever any comment is being made or a decision is taken on the application, you will be able to view it in the "Logs" section. These comments can vary, such as acceptance of the application, some errors made during filling up the details, missing information, rejection, etc. You will also be notified through SMS/Email about such comments.



On acceptance of the application, the MNRE will issue the "Project sanction letter" & now you can commence the project commissioning activities. You can view and download any letters from the tab "Letters". Also, the "Stage 2-Commissioning" tab will get unlocked now.
Post commissioning of the project,you will be required to upload the necessary documents.


The documents will be reviewed by the approving authorities & on acceptance of the same, the MNRE will issue the "CFA release letter". The CFA is disbursed through a separate handle.


The stage-wise feedback can be seen in the "Notifications" tab

The tabs on the left column "Completed Applications" and "Rejected Applications" are to check if the number of completed applications submitted by a developer and if any of the applications have been rejected.

The "Downloads" tab provides scheme-wise reference documents/ formats to be uploaded

To check the status of the application, you may click on "Check Status"

For any queries, you may contact the concerned authorities whose details are mentioned in the "Help Desk" tab

To learn about the MNRE's scheme / policies click on the "About the programmes" tab.